Hello everyone!
Welcome to Can You Felt It? - Waffle Flower Blog Hop! Today is the 5th of the month and also the day that the design team girls get together and share some fun craft projects using our newest stamps and dies released in April.
For the card, I stamped the buttons from Notions onto green cardstock in a random pattern. To create the tomato pin cushions, I die cut ovals from the Magenta and Flamingo felt and then hand cut a pair of wonky stars from the Chartreuse felt to make the stems. I inserted a few stick pins before glueing them to a piece of white card stock.
An orange mat with a scalloped edge and a bit of blue twine to match the sentiment finished off the card. I love how the two pin cushions look like a mama and little one. This card might also make a nice Mother's Day card for a crafty, sewing mama.
I also made a needle book and some bow-topped T-pins to add some fun pieces to her new hobby.
For the needle book, I die cut some Magenta felt into a long rectangle shape. The page's of the book were made from the Flamingo felt. I simply stitched through all the layers of felts down the center to create the book. I added a fun bow detail with the
Mailable 3D Bow template die
and Chartreuse felt.
Here's a look at the inside of the book:
I trimmed the needle book pages with pinking shears to add a fun detail. Now, she has a special place to keep pins and needles.
Lastly, the felt pins...
These were super easy to create. I die cut more 3D bows from the felt- Cyan, Orange and Chartreuse and during assembly, I added some glue and a T-pin through the center.
Here's one last look at my projects...
I think she is going to love them!
This is the gorgeous felt collection from Benzie Designs that I used in my projects: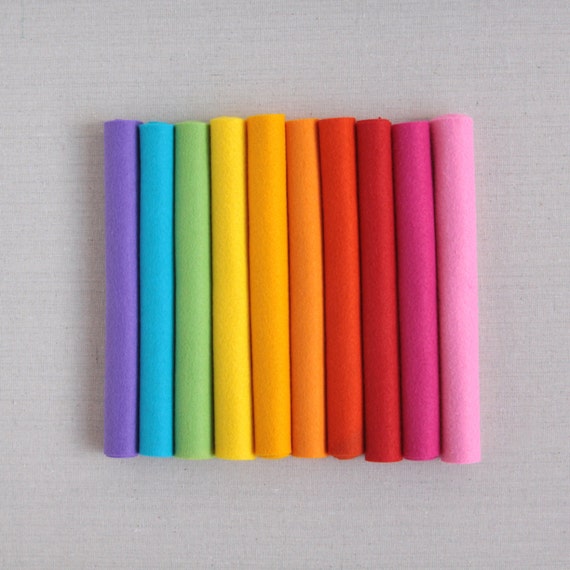 Giveaway!
You can't have a hop without prizes! Leave comments along the way for chances to win a stamp set of choice from Waffle Flower Crafts. Enter before midnight Eastern on May 8 and the winner will be announced on Waffle Flower Blog on May 9th.
Special Discount for All
Enter WAFFLE10 for 10% off at
Benzie Design
. Valid through May 31st, 2014
That's it for me today! Your next stop is
Kim Kesti!
Thanks for stopping by!!
Katie